The NBJA Terms and Conditions have been drawn up for the benefit of its members and their businesses. In certain cases, the NBJA is willing to grant other persons and companies permission to use these terms, when paying a fee. The lawful use of the NBJA terms and conditions has been obtained by the following persons and companies:
Barkas-Design, Barckemalaan 14, 9356 SB Tolbert (Gr), Nederland
Guido de Groot Design BV., Hogewoerd 122, 2311 HT Leiden, Nederland
Lutra Yacht Design BV, Nederland
Omega Architecten b.v., Klepperheide 22, 6651 KM Druten, Nederland
Waterline Design, Rederijkershoeve 53, 7326TH Apeldoorn, Nederland
MVYD, Nederland
The NBJA will act against the unlawful use of the NBJA General Terms and Conditions.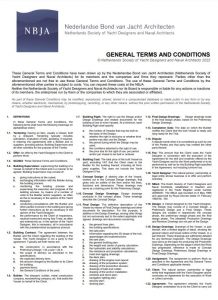 You can download the General terms and conditions of the NBJA here AV2022ENGELS.